Ukrainians long for peace as they celebrate Easter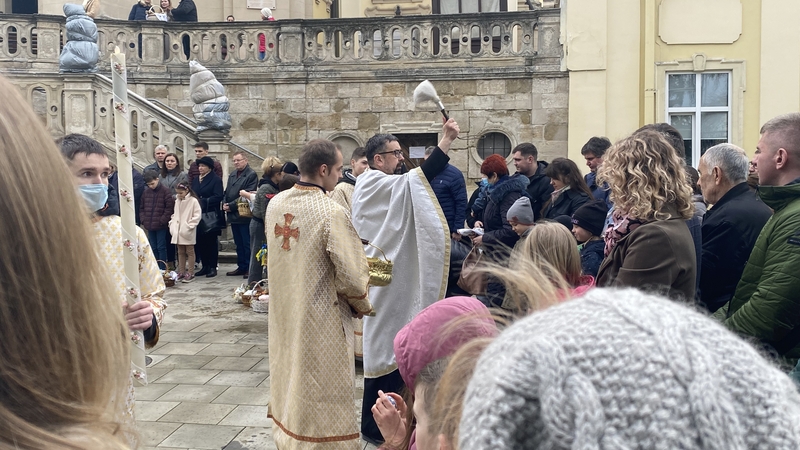 Today, millions of Ukrainians celebrate Orthodox Easter. It's one of the most important days in their religious calendars and a holiday they share with Russia and its massive Orthodox Christian population.

Today also marks exactly two months since Russia's war against its neighbours began. A grim milestone.

Incongruous with the Easter festivities with which it coincides, Easter is synonymous with eggs after all, a symbol of life and rebirth. The symbolism of today's holiday is hard to miss. Had the war not happened, today would have been the first time in two years that Easter celebrations were observed.

Covid-19 here, like everywhere else, locked down this festival so beloved of Ukrainians. Perhaps because of this, people are determined to preserve their traditions, proud of the culture which they believe Russia is trying to destroy.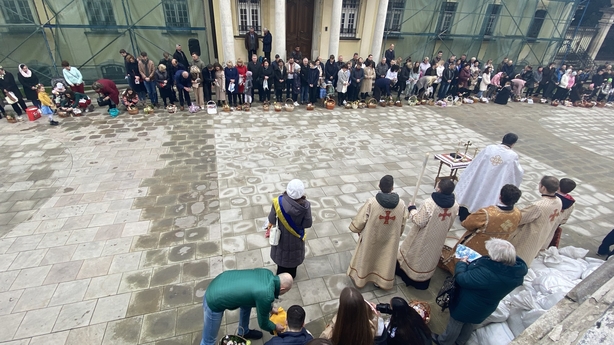 Yesterday, the streets were awash with people carrying wicker baskets draped in brightly coloured cloths. These 'Easter baskets' are lovingly prepared and packed with symbolic produce.
They contain salt, to prevent family arguments, horseradish which represents good health, butter for the smoothness of life, sausage which represents food, and the specially prepared 'Easter cake', lovingly baked in homes across the country, which stands for health and prosperity.
The pièce de résistance, ornately hand-painted eggs, of course represent life or rebirth. These baskets were brought to churches around Ukraine to be blessed by priests.
On the front lines, members of the clergy are reported to have visited soldiers to bring this Easter blessing to them. In the courtyard of St George's Cathedral in Lviv, scores of people congregate in a large oval, their Easter baskets resting at their feet.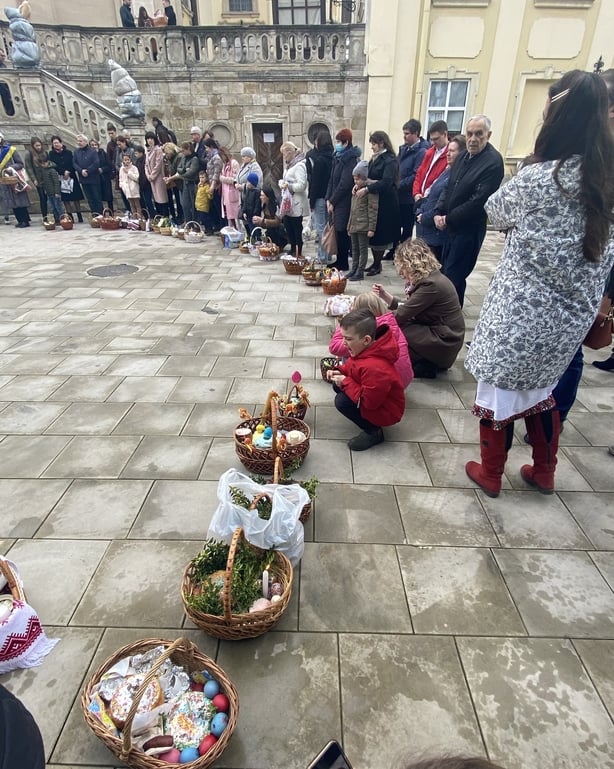 The priest moves around the crowd, showering them and their baskets in holy water dispensed from a special brush that resembles a small feather duster. He tells them that Ukraine will be okay. The sign at the cathedral gate reveals the city's patron to be Saint George the dragon slayer; never have his slaying capabilities felt more needed.
Ukrainian President Volodymr Zelensky announced on Thursday that Russia had refused his proposal of an Easter truce to allow for the establishment of much-needed humanitarian corridors especially for those trapped in the stricken city of Mariupol.
Instead there were reports that Russia would mark the holiday with an escalation of aerial attacks. A missile attack struck an apartment block in Odesa yesterday afternoon, killing eight people including a baby.
Around the same time in Lviv, people were settling down in shelters across the city. At one community space in the city's Industrial district, Natalia Fesenyuk is giving a master-class on the Ukrainian tradition of Pysanka. It involves hand-painting eggs, which have been dipped in beeswax, and it's a huge Easter tradition.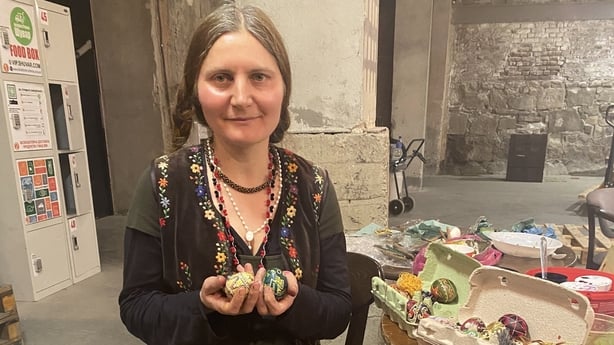 Natalia laughingly tells me that lots of surrounding countries share the same tradition but that Ukraine has claimed it as its own. She is a huge believer in the restorative powers of art, which she says brings emotional stability at a time when people are highly stressed.
Looking at the concentrated faces of the children who surround her, carefully waxing and decorating their eggs, it's easy to believe her. But she has further proof, telling me that she was a recent evacuee from Kyiv.
Before she was extracted from the city, she found that egg-painting was a good way to escape the frequent explosions which smashed the windows of her house.
Before I go, Natalia presents me with an egg, painted a blood red and inscribed in Ukrainian, dated March 2022. She explains that the area where she lives in Kyiv is 20km from Bucha, the suburb now infamous for the alleged war crimes perpetrated by Russian soldiers on its civilian population.
"For the women of Bucha," she tells me. "I could not help them. The only thing I can do now is remember them".
For Ukraine, Easter 2022 has brought death, but there's hope here that it too, can be reborn.